Get invitation letter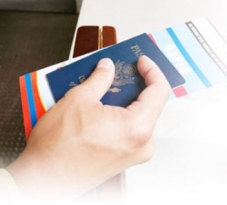 We welcome all international visitors to visit Fire & Safety in Taipei, Taiwan. Shall you require an invitation from the organiser for visa application, please follow steps below:
Register for Fire & Safety

Choosing yes for "apply for visa invitation letter" in registration procedure

After completing registration, you will be informed to require your invitation letter by registered email within 3 working days.

If you have any further queries, please email to services@secutech.com. For more information about visa application to Taiwan, please visit here.
*Check countries eligible for visa-exempt entry
E-Visa Application for ASEAN Passport Holder of India, Indonesia, Myanmar, Philippines, Vietnam, Cambodia and Laos

Buyers/ visitors coming from above regions could benefit from the VISA deregulation under the New-South-Bound-Policy Scheme after meeting below requirement
 
To be eligible for an ROC Travel Authorization Certificate, the following conditions must be met:
1.The applicant's passport must have remaining validity of at least six months starting from the date of arrival in Taiwan.
2.The applicant must possess an onward/return air or ferry ticket.
3.The applicant has never been employed as a blue-collar worker in Taiwan.
In addition, the applicant must possess at least one of the following documents issued by Australia, Canada, Japan, Korea, New Zealand, any of the Schengen countries, the United Kingdom, or the United States:
1.Valid resident or permanent resident card
2.Valid entry visa (may be electronic visa)
3.Resident card or visa that has expired less than 10 years prior to the date of arrival in Taiwan
Source : ROC Travel Authorization Certificate

Eligible candidate could apply, pay and get the E-Visa all on-line within a week, without any in-person interview or detour. Visit E-Visa Application Page
E-Visa application fee is USD 60 and is valid for 3 months from the issuing date. Visa holders will be allowed to stay 30 days from the date of entry.
Thailand and Brunei passport holders may be exempted from Visa Application. For more information, please visit Visa-Exempt Entry.